Knappe Composites is the world leader in the production of the Fiberglass Thermoplastic Pressure Vessel.
With 18 years of extensive research in polymers and composite materials for pressurized systems, we are able to provide unequalled experience and expertise within our industry. Knappe has developed advanced multi-axis DNS controlled production centers for the highest quality in wilding which results in quicker delivery time and increases our flexibility to satisfy the special needs of our customers. The success and reliablity of our AnyChem Vessels have been proven and continues to be recognized and applied worldwide.
AnyChem™ Vessels provide better Water Quality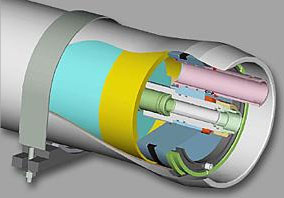 Our Vessels are produced following the highest standard available for RO/UF/NF applications and are equipped with a thermoplastic PVC liner produced in accordance with the recommendations of the EU, The KTW, The DVGW and the Food and Drug Administration. The patented liner prevents microbiological growth on the inside walls of the vessels and the thickness of the liner protects the vessel from penetrating light.
Vessels can be kept clean easily which is mandatory for use with food products.
No monomers or fibers an leach from the resins of the fiberglass to pollute the water or food.